Want to hit the ball straighter? Try these 3 tips from LPGA pros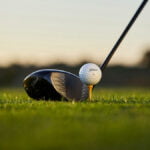 BY: ZEPHYR MELTON
RANCHO MIRAGE, Calif. — Bombing the golf ball is all the rage these days. The long ball has always been appealing, but hard data has increasingly supported the sentiment that distance is an incredible advantage. And with Bryson DeChambeau pushing the limits in the professional ranks, golf is at a crossroads.
But just because distance has taken hold of the game doesn't mean it's easy to achieve — especially for those weekend warriors with less free time than DeChambeau. Nor does distance-chasing on the professional level mean swing speed should be your No. 1 priority, either.
In fact, most amateur golfers would be better served focusing on another important skill with the big stick — accuracy. On the LPGA Tour, there are a number of players who choose accuracy over distance. Lizette Salas and Megan Khang are two of those fairway chasers, with each ranking inside the top five on Tour in driving accuracy.
Ahead of the ANA Inspiration, GOLF.com caught up with them to get some of their keys for accurate driving. Here's what they had to say.
1. Always check your fundamentals
Hitting the ball straight can be difficult for many players, and if your fundamentals are off, it becomes even harder. Get back to the basics — grip, alignment, ball position — and make sure everything is rock-solid before searching for answers in other areas.
"Always check your fundamentals," Salas says.
2. Get through the ball
Getting stuck on your back foot can be a major detriment if you are trying to find fairways on a consistent basis. When you don't get through the ball with your big muscles, you rely on smaller muscles and timing, which can result in inconsistencies.
"No matter what, always make sure you get through the ball," Khang says. "The mistake with some people is to stop at impact, and it makes them miss right."
3. Tempo is key
Swinging hard might result in the occasional longer drive, but if you're missing that sweet spot, it can cost you both distance and accuracy. Try to smooth out your swing and maintain consistent tempo and you will likely find more fairways.
"Tempo is really important," Salas says. "You need to know your capability, like how hard you can swing at it. That's key. You can gain a few extra yards, but if you're risking your accuracy, I don't think it's worth it."
Originally posted on Golf.com