Superintendent of the Year!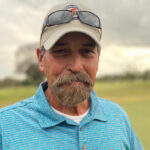 Our own Mick Garza, Superintendent of Olmos Basin
Mick Garza, Alamo City Golf Trail, 2021 Superintendent of the Year
Mick Garza has worked in the golf industry for over 30+years. Mick began his career at the Dominion Country Club back in the 90's, where after a short spell he joined the agronomy team at Sonterra Country Club during its early years. After a few years of tenure there, he then moved to Northern Hills Golf Club as the Head Golf Course Superintendent. Mick was the Superintendent at Northern Hills for just over 26 years, and weathered numerous ownership changes before the course was acquired by the City of San Antonio in 2015. In 2018 he accepted the role as the Superintendent for Olmos Basin Golf Course and the San Pedro Driving Range and Par 3 course.
On top of all that, he more recently was the grow-in superintendent for the recent renovation of the Olmos Basin Golf Course just last year. Despite fighting several floods during the renovation, as well as the big freeze of 2021, Mick managed to overcome all the odds to get the course ready for play to re-open in November of 2021. There has been nothing short of rave reviews for the course since the re-open. Kudos to Mick and his perseverance throughout the project. Mick is a real legend of the industry who can definitely say he has "done it all and seen it all" during his career. Take some time one day to visit with him and you will be grateful you did. He for sure has a few stories to tell and perhaps a few snippets of wisdom to share.
Congratulations and there is no more deserving winner for Superintendent of the Year than Mick Garza.
Congratulations to all our2021 Nominees
Craig Felton
Jake Snyman, Alamo City Golf Trail
Michael Chandler, Avery Ranch Golf Club
Cash Lane, White Wing Golf Course
Will Bell, Forest Creek Golf Club
Brian McMinn, Georgetown Country Club