Support Malcolm Kirven – Local Amateur Golf Legend
Malcolm Kirven was recently inducted into the African American Golfers Hall of Fame. He needs the San Antonio golfing community's help to travel out to Florida for the induction event in May. Malcolm stopped by to practice his putting at Brackenridge Park, and we had a chance to sit down with him.
Born and raised in San Antonio, the Kirvens were a golfing family. Influenced by their father Lazar Sr, and supported by their mother Willer, Malcolm and older brother Lazar Jr made the rounds and won much golf in tournaments near and far. Had he grown up in a different time, Malcolm might have been a household name in the golf world. He broke color lines in golf in the 50s and 60s, but his name isn't quite as well-known as Charlie Sifford or Lee Elder, although Malcolm beat both future legends out on the course.
Malcolm started playing golf at just 10 years old here in San Antonio. At 80 years old, he remembers a time when blacks were not allowed to play golf. The only exception at the time was on Monday mornings before noon. If he got the chance to play anywhere on a Monday, he and his friends would listen for a noon whistle from the Alamo Iron Works, located at the current site of the Alamo Dome downtown. When that noontime whistle would blow, they knew it was time to get off the course. It wasn't until 1954-55 that San Antonio blacks were allowed to play at other times of the week.
He fondly remembered enjoying the soda and sandwiches served by Mrs. Elizabeth Schriever, who ran a food stand from the backyard of her home on what then just off the 13th tee. The green triangular section on the left-hand side of the photo below was part of the original course before 1968 when Highway 281 was built. The Schriever home still stands today, located at 217 Terry Court. If you drive by the home, you can still see the old 13th tee box remnants in the grassed area.
Malcolm attended St Phillip's College here in San Antonio, then transferred to the University of Arkansas Pine Bluff where he was on the golf team.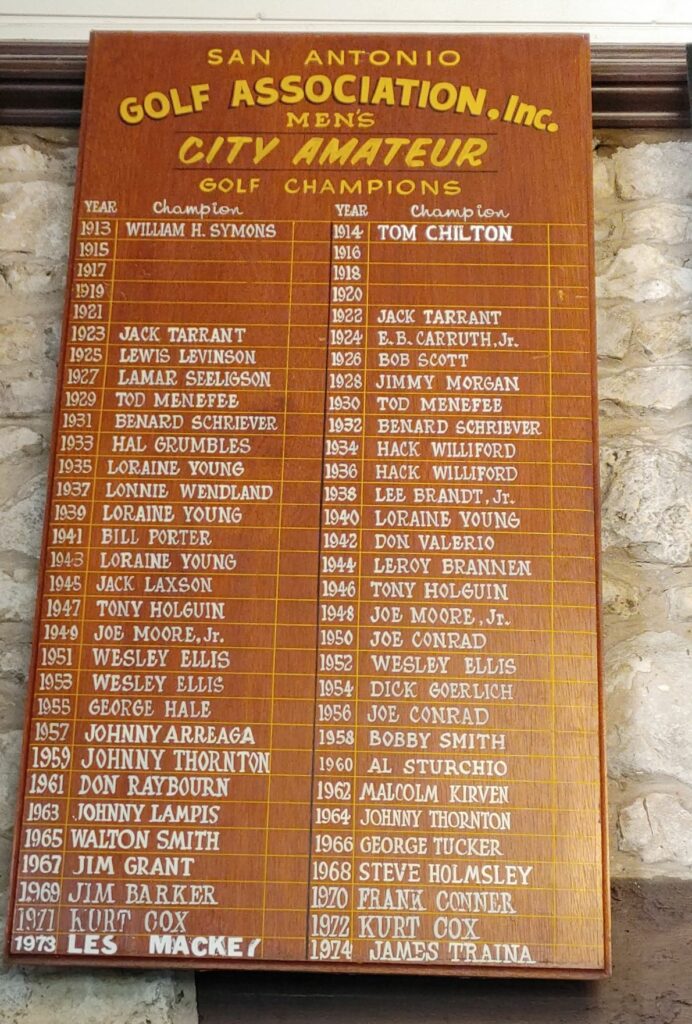 In 1965 he enlisted into the Airforce, just before being drafted, and according to Malcolm spent exactly, "Three years, Four months, and Nine days" stationed at Lackland Airforce Base. He played on the Lackland golf team for 2 years, playing in military events around the nation. He was working at the Lackland golf shop when he had a fortunate run-in with a customer who hired Malcolm at a company that would later become Exxon Mobile, where Malcolm worked in Marketing from 1969 until his retirement in 1996.
We'll never know what would have happened had the times been different but surely Malcolm and the golfing Kirvens have left their mark on the golfing landscape of San Antonio. By the way, his best score at Brackenridge Park is an incredible 63!
His daughter Tashi, has created a GoFundMe page to help raise money for his trip to accept his African American Golfers Hall of Fame induction. See the link below.
Short List of Malcolm's Accomplishments
1959 San Antonio City Junior Amateur Championship - Winner
1960 San Antonio City Junior Amateur Championship - Winner
1962 San Antonio City Men's Amateur Championship - Winner
1963 San Antonio City Men's Amateur Championship - 2nd Place
1964 Southwestern Athletic Conference (SWAC) Team and Individual Titles
1964 NAIA All American
1964 Texas State Negro Golf Tournament Champion
1965 Texas State Negro Golf Tournament Champion
1968 Inter-Service Golf Championship