Seven Restored Golden Age Courses You Can Play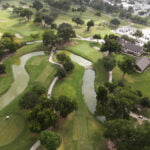 Turn back the clock (sort of) and play these top-notch courses that have benefited from some tender and loving restorations. by – SHAUN TOLSON
Many of the recent, headline-grabbing restoration projects of Golden Age courses have been affiliated with exclusive, members-only clubs. However, all is not lost for the intrepid public links player, since a number of classic layouts that operate as traditional public clubs have also benefited from significant restorations over the years.
Here are seven that shouldn't be missed.
Pinehurst Resort (No. 2 Course) | Pinehurst, N.C.
Widely considered to be Donald Ross's pièce de résistance, the No. 2 course underwent a comprehensive restoration conducted by Bill Coore and Ben Crenshaw in 2010 — one that replaced lush Bermuda rough with native sandscape.
Ross tinkered with the design of the No. 2 course for decades, but in Coore's estimation, the version of the course that best "captured the golf world's imagination" existed from 1935 until the late 1960s. To restore that version of the course, he and Crenshaw relied heavily on aerial photographs taken by the U.S. Air Force in 1943 as a part of WWII reconnaissance missions flown over nearby Ft. Bragg.
"If you play a course like No. 2, most often every round something memorable is going to occur," says Coore. "That memorable moment may be really happy and positive, and it may be the exact opposite. There's that element of unpredictability. It's the element of the unknown. That's the thrill. It's what's captured people's imaginations for hundreds of years about playing golf."
Mount Washington Resort (Mount Washington Course) | Bretton Woods, N.H.
As one might expect, a golf course that was built in 1915 and set within the White Mountains of northern New Hampshire is going to evolve, whether by intention or natural transformation — a century of harsh New England winters can do that to the land. But as course architect Brian Silva learned while studying Donald Ross' original course plans prior to his restoration of The Mount Washington Course in 2008, some of the course's original features no longer existed. That was because they were either dumbed down over time or perhaps because they were never fully executed.
During Silva's restoration, green complexes were rebuilt and reshaped to the specs of the original plans — including their proposed contours — and plenty of fairway bunkers were reintroduced along the course, many of which were oriented in such a way that they angled away from the tee boxes. "We almost always found that the bunker sat just short of an 'up' in the land," says Silva, who explains that was a characteristic of traditional course design.
"Where holes were revised," Silva says, "the idea was to go with what the land suggested — in the same manner as would have been done back in the day. This actually proved to be a lot of fun."
Bacon Park Golf Course | Savannah, Ga.
Six years after Silva rejuvenated the Mount Washington Course, another Donald Ross design — this one originally built in 1926 and almost 1,000 miles to the south — benefited from a similar restoration.
Much like how Silva approached his restoration project, course architect Richard Mandell relied on Ross's original field sketches, aerial photographs dating as far back as 1951, and also the course owner's personal recollections to transform the 6,418-yard course back into the captivating layout that originally opened to the public almost a century ago.
Much like other classic Ross-designed courses, Bacon Park is defined by sloped greens, undulating fairways, and strategic bunkering that requires golfers to think their way around the course. Such a philosophy — one focused on choices and strategy — aligns with Mandell's own approach to course design, but he acknowledges that didn't impact the project's success. "My strategic philosophies don't matter if we're doing an authentic restoration," he says. "If you're going to restore golf courses, you have to take yourself out of it as much as you can."
Keller Golf Course | St. Paul, Minn.
A year or two prior to Richard Mandell's restoration of Bacon Park, the Pinehurst, N.C.-based architect tackled another Golden Age golf course restoration in St. Paul, Minn. In some ways liberating and in other ways more challenging, the restoration of Keller Golf Course came with far less historical information and reference material upon which to base the restorative work being done.
The championship course, which opened for play in 1929, had hosted the PGA Championship in 1932 and 1954, along with the 1949 Western Open. From those championships at least some documented material existed about the course. Yet, the 6,675-long layout was conceived by a relatively unknown builder, Paul Coates, who worked as a civil engineer and allegedly took personal vacations to visit some of the most revered courses in the United States. It was on those trips that he learned the fundamentals of golf course architecture and design.
French Lick Resort (Donald Ross Course) | French Lick, Ind.
The French Lick Resort, located in southern Indiana about 50 miles west of Louisville, Ky., has garnered plenty of recent attention — deservedly so — for its Pete Dye Course, an imposing 8,000-yard layout that hosted the Senior PGA Championship in 2015. But the golf resort originated with a Donald Ross layout, circa 1917, that was painstakingly revitalized by Lee Schmidt and Michael Fay through a $5 million restoration project in 2006.
During that refurbishment, the course was reinforced with 80 deep, flat-bottomed bunkers accented by gnarly, fescue-grown faces — strategic elements that were one of Ross' architectural signatures. Eye-catching and expansive square or rectangular greens were also built to bring the course back to its original splendor. Not surprisingly, those putting surfaces also now feature bold slopes and undulations. https://bbf0a979c371566c2f4b21821f24e699.safeframe.googlesyndication.com/safeframe/1-0-38/html/container.html
The Greenbrier (Old White Course) | White Sulphur Springs, W.Va.
Pinehurst may get all the love for being America's first golf resort — the first of its nine courses opened for play in 1898 — but The Greenbrier deserves plenty of consideration in that conversation, too. The Old White Course is home to a championship layout designed by Charles Blair (C.B.) Macdonald, which opened for play in 1914. (Seth Raynor also oversaw updates to the course during the 1920s.)
Throughout his design career, Macdonald was known to introduce noteworthy course architectural features from famous European courses into his New World creations, and the Old White at The Greenbrier is no exception. The 7,246-yard layout features a Redan-like hole (modeled after the 15th at North Berwick), a long par 4 built in the style of the Alps hole at Prestwick, and a long par 3 that replicates the 11th Eden hole at St. Andrews' Old Course.
The course has enjoyed two restorations in the last 20 years. The first was conducted by Lester George in 2007, which re-established design features such as a Principal's Nose bunker and Dragon's Teeth mounds. More recently, Keith Foster visited the resort and rebuilt Old White's greens, in the process diminishing the pitch of the slopes to allow for more hole locations and faster-rolling surfaces. He also repositioned as many as 20 bunkers.
Brackenridge Park Golf Course | San Antonio, Texas
When A.W. Tillinghast and municipal golf courses are uttered in the same sentence, emphasis almost always falls on Bethpage Black in Farmingdale, N.Y. Yet, San Antonio is also home to a municipal course designed by Tillinghast. In fact, Brackenridge Park Golf Course was built almost two decades before Tillinghast's more famous public layout some 1,600 miles to the northeast.
When Colligan Golf Design (CGD) finished its restoration work in 2008, "Old Brack," as the course is affectionately known, featured tee boxes, fairways, and greens that were all defined — at least in part — by geometric shapes and straight lines. Bunker forms were kept simple with flat sandy bottoms and grass faces. And while those features reflected the course as Tillinghast had intended it more than a century ago, CGD made sympathetic renovations to keep the course relevant given modern maintenance practices and the latest technological advances in golf equipment.
Originally posted on Sports Illustrated.com