Long-Term Junior Player Development Programs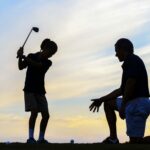 We are excited to offer monthly Junior Player Development memberships at San Pedro for children 6 years and older.

The USA Junior Golf Team is excited to announce that this long-term junior golf player development program will be starting at San Pedro Performance Academy. USA Junior Golf is designed for all ages of junior golfers who are playing competitive golf or aspire to begin the journey to tournament golf.

Teams meet two days a week for structured team practice for one and a half hours (each practice). The monthly cost for the program is $350 and includes 12 hours of practice and coaching, all range balls, one dozen Callaway Chrome Soft golf balls, team towel and one USA Jr Team golf bag a year.

Program starts August 17th!

Developmental I and II – Wednesdays 5:00pm-6:30pm and Fridays 5:00pm-6:30pm.

If these are of interest to you simply register for the clinic days and times that work best for your schedule.  You will register for the clinic on the booking site below.

Thank you and we look forward to seeing you at San Pedro soon!