Here are the 11 best (and a few of the worst!) foods to eat during a golf round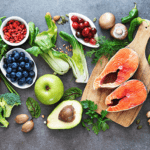 By Pat RalphGETTY IMAGES/AMAZON
---
Here's one thing all golfers have in common: we like to eat. Before, during and after a round. While some snacks are great for energy and focus, others can drag you down.
To identify the best and worst, we got some help from nutritionist Marc Halpern, who runs a personal training and nutrition business out of TPC Summerlin in Las Vegas and works closely with a handful of PGA Tour players, including new rookie of the year Aaron Wise.
One theme: context is important when assessing what foods to choose. Halpern says it's important to understand what the goal of the round is and to keep in mind that every person is different.
Golfers like pre-shot routines, and Halpern suggests structure around eating habits, too. "There are already a ton of variables in golf," he says. "Don't make food a variable out on the course. That's the last thing you need."
Halpern's golfers eat the same thing during practice rounds as they do in tournaments. He encourages golfers to build meal structure and keep a record of what they eat and how they feel.
And now, onto the list.
The Best (and Worst) Foods for Golf
Protein shakes: Protein shakes are a convenient, fast-acting way to keep you filled up on the course. Just pop it open and go. Plant-based protein shakes with vegetable and fruit extracts are the best for golfers, according to Halpern. One brand he recommends is Orgain, which he considers more nutritious than others because of its fruits and vegetables.
Bananas and apples: As the old saying goes, "An apple a day keeps the doctor away." Can an apple or banana a round keeps the bogeys away? They are two of the more tolerated and convenient fruits to eat, according to Halpern. Both can also be easily cut up and consumed in bite-sized chunks. Berries are not a bad fruit option either. But Halpern likes apples and bananas best.
Almonds: If you want to snack like Phil Mickelson, just pack almonds. They're a good, healthy option for a round. But, according to Halpern, almonds are best when mixed with nuts and fruit. Halpern encourages golfers to make their own trail mix because it's a high-calorie snack.
Peanut butter sandwiches: If you're trying to snack like Tiger Woods, this is the move. Peanut butter sandwiches provide high amounts of protein and carbs. Throw on little jelly and you're living right. The only concern with peanut butter sandwiches, according to Halpern, is that it's missing fiber. Therefore, it could burn up fast and lead to more hunger cravings on the course. But overall, the old PB&J is a safe bet.
Beef jerky: Here's another great option. Halpern encourages golfers to look for jerky that's locally grown and grass-fed. That means the beef is both cleaner and healthier. Big corporate brands might be cheaper and easier to access, but are not nearly as healthy. Halpern says that rather than eating jerky alone, have it with fruit.
Snickers: Snickers are a simple, convenient, and easy snack to have out on the course that will keep you filled up for a round. Furthermore, Snickers can provide golfers with energy when they need it most. But Halpern isn't big on it. He believes the candy bars are passable in emergency situations, but other healthier options should be pursued first. Halpern recommends a healthy meal before the round to avoid an energy crash and, thus, a Snickers bar.
Protein bars: KIND, Quest, and RXBAR protein bars are three of the best, according to Halpern. Like protein shakes, bars are a convenient, easy way to quickly fuel up during a round. But be careful at what brand you select, says Halpern. He considers many protein bars to be "glorified candy bars." He recommends reading the labels on all protein bars beforehand, as many have sugar levels comparable to that of a Snickers bar.
Cheetos/Doritos: From a practical standpoint, Cheetos and Doritos are a no-go if not eaten properly. If you don't clean your hands after eating them, there's a good chance that your ball, clubs, and glove will turn orange. A golfer's worst nightmare. From a health perspective, Halpern says that Doritos and Cheetos are just salty junk food. He doesn't mind the occasional bag if you're having it alongside a turkey wrap/sandwich and banana, but advises against it as a solo option. So do we.
Citrus fruits: Unlike apples and bananas, citrus fruits such as oranges should be avoided on the course because they're acidic and are generally more intolerable. Of course, for many golfers, they may be perfectly fine. But the last thing you need is food, um, "backfiring" on you while standing over a birdie putt. So try to avoid citrus fruits if you can.
Hot dogs: In terms of convenience, hot dogs are a great option. It's a quick and easy food to snarf down that can hold you over until the 19th hole. They're especially tempting at the halfway house. Halpern is OK with them, but only in moderation.
Heavy foods: This is a very broad category, but the answer is simple: avoid the heavy stuff before and during a round of golf. Leave them for the 19th hole. These include pancake breakfasts, burgers, steaks, nachos and french fries. Digesting heavy, processed foods literally takes energy away from your game. As a result, you're not likely to play as well as your energy level sags.
Originally posted on GOLF.com