18 reasons why your pace of play might be too slow on the golf course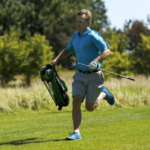 Why is pace of play such an issue for many golfers in the United States?
Having played this game with what feels like just about every demographic possible, I'm convinced that most of us actually don't take too long on our pre-shot routine, or spend too much time reading the greens.
Slow play, based on my experience, boils down to two key elements: not being ready to hit when it's our turn, and not being mindful of our partners.
It takes an entire tee sheet and golf course staff working in harmony to keep pace of play exceptional. If you're like me, a round over four hours isn't a round that's worth remembering.
Here are some of the most common reasons as to how groups lose precious seconds here and there that ultimately lead to a backed up tee sheet.
1. You're not ready to hit on the tee box
Chit-chat on the tee too often gets in the way of "ready golf." This dynamic is in large part a result of golf carts. The tee boxes are the best time you chat with the players in the other cart. Try and save the storytelling for the 19th hole or when you have a wait yourself. Just be ready to hit when the group ahead clears.
2. You're playing a tee box too far back
Too often, a foursome will play the tee box based on the best player in the group. There is no shame in playing a box up collectively, or playing a different tee than everyone else in your group.
3. You're not sharing the golf cart properly
Just because you're in a golf cart doesn't mean you can't walk a good bit during the round.
I've said it before: sharing a cart should be like a game of leap frog, not a three-legged sack race. I have a hard time containing myself when I see a golf cart stop at one ball, the first player hits, then they drive diagonally 20 yards to the other player's ball before moving up the fairway together.
Instead, try parking the cart between your balls and you can both get ready at the same time. If your balls are farther apart, there is no shame in dropping off the first player and then going to yours. After that first player hits, they can walk up the fairway and meet you after you hit. The passenger of a cart should always be aware for when they should get behind the wheel.
4. You're not taking multiple clubs to your ball
I usually take three clubs with me to my ball, even around the greens. When heading into the trees (which is often), I've made a habit of bringing clubs with different lofts (like a 5-iron for a punch-out, a wedge for a gnarly lie, and something in the middle for the actual yardage).
Also, if you're looking for your ball, always have a club or two in your hand.
5. You're searching for balls too long
The proposed "modernization" of the USGA and R&A rules bring the maximum time allowed to find a ball be reduced from five to three minutes. That might make sense in a tournament, when there is a lot on the line, swings are faulty less often and holes are properly staked and spotters are in abundance.
Different standards should apply to mid- and high-handicaps. We're in the weeds more often (usually deeper in), don't have spotters, and nothing to play for besides a 19th hole pint.
The entire foursome shouldn't put everything down and egg hunt unless there's a whole lot riding on the score and the ball should be easy ball to find (like a ball that's lost in leaves on or near the fairway).
6. You're looking for a ball that is pointless to find
---
If you spray a ball that you know sailed ten yards deep into O.B., why bother spending any time looking for it?
To quote Garth Algar, It's over Wayne! Live in the NOW!
7. You aren't reading your putt while others are putting
There is a pro-style showmanship of stalking putts from all angles while the partner looks on. But in the amateur game, you can be a lot more candid about reading the green while it's someone else's turn. Just try and be still right before they hit the putt, and stay out of the player's line of sight.
These days I usually don't even mark my ball unless it's in the way or possibly distracting to another player, though sometimes I notice that I'm playing with a competitive golfer who might be distracted if my ball isn't marked so I adjust accordingly.
8. You're not prepared when it's your turn to hit
There is no "offsides" in golf. It's quite okay to walk up ahead and off to the side while other players are hitting. Just be still, turn around and watch the shot for your own safety.
9. You're not watching your playing partners' shots
You can keep an eye on your playing partner's shots even if you're off to the side or ahead walking to your ball. In fact, if you're ahead of them, you may have a better vantage point to see where the ball lands.
This helps because you can tell them to bring an extra ball, or a wedge or a chipper (in case they didn't realize their ball rolled off the green, into a bunker or into the water).
10. You're holing out everything
No one should have to grind over (or have to watch) a bunch of fairly meaningless two-footers, especially for double bogey. Life is too short. Concede putts to your playing partners once in awhile.
(That said, there is no such thing as a "gimme" birdie putt. Make them putt it!)
11. You're not helping each other with yardage
Have you ever been a group where all four of you pull out your rangefinder on a par 3? Whoever gets to the tee first should do the honor of a number (you can trust each other, right?)
Help each other in the fairway by calling out sprinkler head yardages or GPS watch readings when you're near one another.
12. Your pre-shot routine is too long
Honestly, I think this is pretty rare. Most golfers I play with could probably gain a few shots with a more deliberate and consistent pre-shot routine. But watching too many practice swings or waggles can be tedious.
Michael Breed on The Golf Fix says a good goal to shoot for is 45 seconds from the time you arrive at your ball to the shot. The USGA suggests a pretty aggressive 20 seconds, but that's certainly not something they enforce in the tournaments they run.
13. You're playing stroke play every round
This is a tricky subject because for handicap purposes, the USGA wants you to hole out everything in every round in order to report a score. That is in direct opposition to the R&A, which only counts competition rounds. (A recent announcement by the governing bodies was made that announced the creation of a "world handicap system" that will level the playing field).
But stroke play golf is neither as fun or as fast as playing Stableford, match play and best ball. Team play also lightens the pressure a little bit. Mike Bailey recently wrote a helpful article on ten alternative scoring formats you can try.
14. You're too plugged into tech
Wearable GPS can help pace and a smartphone can help you sneak out of the office to play without anyone knowing you're gone (not like I ever do that, boss-man). But fiddling with shot-tracking, non-golf distractions like music and social media, all suck up valuable moments during a round. Be mindful of when tech is slowing up the group.
15. You're hooked on mulligans
Is your "Player B" a scratch golfer like the rest of us? Look, there are times to hit a practice shot or mulligan (like twilight by yourself) but don't keep hitting two and three shots when you're in a fourball. You're not only wasting time hitting the shot but also going out of your way to pick up the ball.
16. You're playing based on honors or who is away
If everyone is ready to hit, let honors or who's away dictate who plays. But truthfully the only time you should really care is with short putts that matter to the match on the green.
I really hate taking honors away from someone who just made birdie, but if they are lolly-gagging, carpe tee box.
17. You're not telling your home course where the problems are
We know marshaling and how aggressive they should or shouldn't be is a touchy subject at a lot of courses. But if you're a regular at a local course, make helpful suggestions to staff in a constructive way. These could be problem areas with high rough, certain unfair pin locations or common bottlenecks. Fast greens can cause pace of play issues on busy courses, so you can always assure staff you'll keep playing their if they dial the speed down a touch.
18. You're not playing enough!
Want to know why the Scots play faster? A lot of them are in golf clubs with weekly games. So pace of play has become a habit.
The simple fact of the matter is that the more you play, the more mindful you'll be of pace of play. Also, the more you play, the better you'll become and the fewer shots you'll hit.
And the quicker you are, the more golf you can play!
An "emergency nine" of tips to keep up the pace of play
– If it's a packed Saturday on the course and your foursome just gave the cart gal an order of four different mixed drinks that might take her a few minutes to put together, suggest she pull over to the side and make them while you finish the hole, then she can meet you at the green or one of you can spin back to grab them once they're ready.
– Put your glove on while you're walking to your ball, not when you get to it.
– Keep an extra ball (or three) in your pocket at all times.
– Fix other people's ball marks if you made it to the green before them.
– Don't write down scores when you get back to the cart from the green. Instead, do it when you arrive at the next hole after everyone is getting out of their cart to get their driver.
– I'm convinced that, unless its scorching hot or your physical condition doesn't allow it, a foursome walking an older, compact course is faster than one zigzagging around in carts. And if a course is cart-path only, it's a no-brainer that walking is faster.
– Basically any story that takes longer than 30 seconds to tell can probably wait until the 19th hole.
– Don't edit and post your pics to Instagram or Snapchat or wherever until there is a wait on the tee or you're finished with the round.
– What if, and I know this sounds insane, you put your phone on airplane mode during the round?
I hope this helps your group be a little more mindful of finding a few seconds here and a few seconds there during your next round.