Single Rider Policy Change – Effective May 3, 2021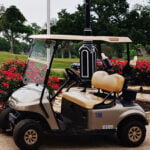 Beginning Monday May 3rd, a single rider will be required to pay the regular cart fee of $16.00, plus an additional $8.00 + Tax to ride alone for 18 holes, or $4.00 + Tax for 9 holes. (provided that there are carts available at the time of check in).
For just shy of a year the ACGT has allowed single rider carts at no extra charge for our guests. The increased cart traffic has had a negative effect on golf course conditions and on the cart fleets because of single carts being used. It has also increased the workload and pressure on our staff to maintain, clean, and rotate our cart fleet.
We also put this in place to help curb the number of foursomes using four carts and reducing the number of carts available for other guests. Players that must have their own cart are still able to do so.
** Exceptions are threesomes where the 3rd must have their own cart, a group that consists of a single player, or a foursome with a single walker.