Receive Lessons by Certified PGA Professionals
Our PGA professionals teach the game of golf to beginners and offer improvements for even seasoned players.  Take your game to the next level!  Book a lesson today!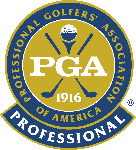 Joe, a former professional player, has spent the past 20 years developmening top Amateur, Junior, PGA, LPGA, Senior PGA, Web.com, and Futures Tour players.  He has developed his own philosophy from the greats of the game and his no-nonsense approach gives his students the edge to compete at any level.
Joe's Teaching Accomplishments:
·         3x PGA-Tour Winner Cameron Beckman
·         17 American Junior Golf Association Tournaments Winners
·         5 American Junior Golf Association All Americans
·         3 College Division I & II All Americans
·         67 State District High School Champions
·         46 State Regional High School Champions
·         7 San Antonio Junior Boys Champions
·         13 San Antonio Junior Girls Champions
·         6 State High School Champions
As a PGA Professional with thousands of lessons given to players of all abilities, Joe Nunez blends the fundamentals of golf into easy to understand instruction which has led many of his students to improve upon their best score while lowering their handicap.
Joe's goal is to educate each player about the cause and effect of their golf swing, so the student will know how to diagnose and correct flaws on their own.
Learning under various Top 100 Instructors has provided Joe with the expertise and passion to help players improve their game.
Curriculum:
Full-swing – Fundamentals of the full swing
Short-game – Short game fundamentals of chipping, pitching and bunker play
Putting – Art of Putting
Club-Fitting – Properly fit golf clubs to enhance ball striking ability
Play with the Pro – Playing lesson to learn the skills needed for course management and scoring
Golf-TECH – Lesson using state of the art launch monitors and motion analysis to fine tune performance
Rates:
1-hour lesson - $60
Manny learned to play golf in Puerto Rico while working as a caddie for military officers. In high school, he boxed, played football, baseball, tennis, and basketball, and was All Conference in basketball and soccer in college.
But his main love is golf! He is an avid student of the game and loves to coach and compete. After winning three club championships and competing in numerous golf tournaments, Manny entered into the PGA by passing the PAT by shooting a 71 and 69, respectively, for 4 under par.
Upon completing three levels of the PGA apprenticeship, Manny became a graduate of the Professional Golf Management Program. He is one of the few Class "A" PGA Members who has a Masters degree in Education.
Manny speaks at schools, associations and civic functions. He loves to teach and use the gift the Good Lord gave him. He has a passion to see students make life-changing discoveries especially in the realm of golf.
For lessons call, e-mail or text:
210-885-7825
Mannymartinez@pga.com
Rates:
1 Hour Session - $70 - Series of 5 - $300

30 Minute Session - $45

Couples - 1 Hour Session - $80

Juniors - 1 Hour Session - $ 45