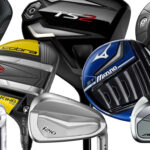 We are clearing out some new golf clubs! These are all available for purchase at Brackenridge Park, just ask for Ruben in Marketing (Click HERE to Email).
All clubs are new (except 1 Cobra wedge), they are right handed and are being sold "as-is" with no returns. No adjustment tools are included. All clubs are unavailable for demo.
We will update this list daily. If the club is listed below, it is still available.
| Club Type | Brand | Model | PRICE | Loft | Shaft | Flex | Head Cover | Mfgr Site | SKU |
| --- | --- | --- | --- | --- | --- | --- | --- | --- | --- |
| Hybrid | Cobra | King SZ | $100.00 | 19* | Recoil ESX 480 F3 | Regular | NO | https://www.cobragolf.com/ | 13500006 |
| Hybrid | Cobra | King F9 | $100.00 | 21* | Fujikura Atmos Black 75g | Stiff | NO | https://www.cobragolf.com/ | 13500006 |
| Hybrid | Cobra | King SZ | $100.00 | 21* | Recoil ESX 480 F3 | Regular | NO | https://www.cobragolf.com/ | 13500006 |
| Hybrid | Exotics | ESX | $65.00 | 19* | Tensei Blue 80g | Stiff | NO | https://www.touredge.com/ | 18200002 |
| Hybrid | Exotics | ESX | $65.00 | 19* | Tensei Blue 80g | Stiff | NO | https://www.touredge.com/ | 18200002 |